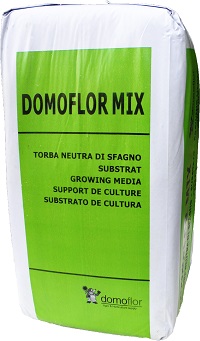 The DOMOFLOR substrate is a completely finished product made from high-quality Lithuanian peat. It can be used by anyone who wants to sow, transplant, grow or reproduce plants.
Contain a surfactant for quick and easy wetting.
Contain a complex water-soluble fertilizer.
The composition includes microfertilizers.
The ideal structure allows you to evenly feed the substrate with water. In a peat substratum, it is impossible to flood the roots, since all excess water flows through openings in pots or cassettes. Due to its structure, physical characteristics and the correct ratio of water and air contained in macro and micropores, the substrate adapts to different climatic conditions, and not only to those that are present in greenhouses and nurseries. In the substrate, plants have good water access even in summer, when evaporation is very high. It is recommended to use a substrate in systems with flood tables.
Peat substrate DOMOTORF without additives, consists of white sphagnum peat, ideal for growing blueberries.
The peat substrate can be packed in bags of 250 liters and big bags of 6000 liters, the volume is measured in accordance with EN 12580 standard.
Characteristics of substrates DOMOFLOR
Name
Fraction, mm
pH (H 2 O)
Fertilizers 14-16-18, kg / m3
Application
DOMOFLOR MIX 3
0-5 (100% transitional peat)
5,5-6,5
1,0
 100% transitional peat.
The best substrate for growing seedlings of vegetables, flowers and berries.
Has an excellent level of moisture capacity.
Suitable for use on lines for filling cassettes, including small cells.
DOMOFLOR MIX 4
0-10 (100% white peat)
5,5-6,5
1,0
The most common substrate for growing vegetable and ornamental crops.
For growing seedlings in cassettes of various types and shapes.
For use in pots with a diameter of 9 – 10cm.
DOMOFLOR MIX 20
0-20 (100% white peat)
5,5-6,5
1,0
Excellent for growing perennials.
For transplanting and planting plants in pots with a diameter of more than 10 cm.
For mulching when sowing a lawn.
When planting plants (ornamental, deciduous, flowering, vegetable crops).
DOMOFLOR MIX 30
0-30 (100% white peat)
5,5-6,5
2,0
For transplanting or planting plants in pots larger than 20 cm in diameter.
Suitable for growing most plant species.
Perfect for growing plants, creeping.
For plants that are demanding of mineral nutrition.
DOMOFLOR MIX 33
30% 0-30mm, 70% 10-20mm (100% white peat)
5,5 – 6,5
1,0
Suitable for most plant species.
For transplanting or planting plants in pots of large volume.
The optimum combination of crushed and block peat.
Does not compact in large containers.
DOMOTORF
0-20 (100% white peat)
3,5-4,5
–
For growing plants that need an acidic growth medium (blueberry, etc.).