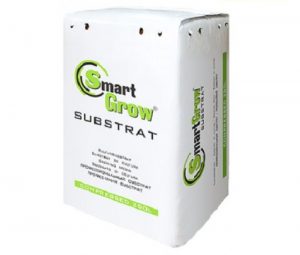 Smart Grow – ready-to-use peat substratum, is intended for the industrial cultivation of seedlings of vegetable and other crops.
The substrate is made on the basis of high quality peat peat, deoxidized with lime with the addition of mineral components (perlite, granular clay). During the preparation of the substrate, mineral fertilizer of prolonged action with microelements is added.
The substrate is optimally balanced with the requirements of plants for the content of macro- and microelements, ensuring a good development of plants. During watering, it retains its structure.
Smart Grow substrates
| | | | | |
| --- | --- | --- | --- | --- |
| Code | Fraction, mm | Fertilizer 18-18-18, кг/м3 | рH | Purpose |
| SG1 | 0-5 | 1,0 | 5,8-6,0 | For cultivation of seedlings of vegetable and ornamental plants by cassette method |
| SG2 | 5-15 | 1,0 | 5,8-6,0 | For diving and transplanting plants of vegetable, fruit and ornamental crops into pots with a diameter of 11 cm |
| SG3 | 15-40 | 1,0 | 4,0-5,0 | For cultivation and transplantation of coniferous, ornamental and other floral plants |
* It is possible to add fertilizers with another formula