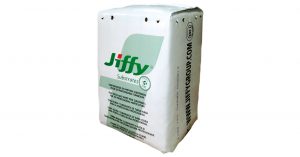 Peat substrates Jiffy are produced in Estonia from high-quality sphagnum peat. Pure from weeds, diseases and various impurities, has a uniform structure, high water and air capacity.
Jiffy substrates contain a new set of basic fertilizers FBF (Florafleur Base Fertilizer) produced by Yara, which provides NPK fertilizers and a long-term optimal level of trace elements required for the plant. The standard formula for filling the substrate is TBF17-10-14 + IU in chelate form, but there are other options for filling. This substrate can also be mixed with glue and perlite.
All Jiffy substrates are treated with a wetting agent FIBA-ZORB for maximum wetting and even distribution of moisture. The humidifying agent FIBA-ZORB is widely used all over the world for the treatment of peat substrates.
The outstanding quality of FIBA-ZORB is its ability to slow down the drying process of the peat substrate. The maximum volume of absorbed water is a guarantee that the drying process is delayed in comparison with soil substrates not processed by FIBA-ZORB; so the intervals between watering can be significantly increased. This is very beneficial for plant manufacturers in containers, as the period of plant realization is significantly increased.
All Jiffy products are in the highest PREMIUM segment of high-quality professional products, which is confirmed by numerous certificates ISO 9001, ISO 14001, RHP, etc.
The RHP certificate is owned by the RHP Association, a leading European center for the examination of substrates and materials used to improve soil composition. RHP marking is a guarantee of quality certifiedfor products for the entire production chain: from the preparation of horticultural components to the final product. This is also a guarantee of the absence of seeds of weeds, pests and pathogens in the substrate.
Characteristics of Jiffy Substrates
| | | | | |
| --- | --- | --- | --- | --- |
| Code | Fraction, mm | Fertilizer 17-10-14, kg/m3 | рH | Purpose |
| 705 | 0-8 | 1,0 | 5,8 | For growing seedlings of vegetable and ornamental plants by cassette method |
| 715 | 0-20 | 1,0 | 5,8 | For cultivation of vegetable, fruit and ornamental plants in pots with a diameter of 11 cm |
| 726 | 20-40 | 1,0 | 5,8 | For the cultivation of balcony, ornamental and other floral plants. Designed for pots with a diameter of 11 cm and more. The substrate has a well-drained and stable structure |