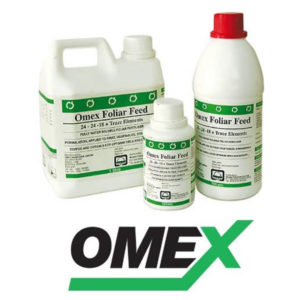 The fertilizers are produced by Omex Agrifluids in factories in England, the USA and Canada and the development of these products is the result of the work of scientific departments in these countries and technologists from around the world. The entire process is focused on continuing development and research, each product has the technical support of the Omex team, not only in England, but throughout the world.
All products of the company meet the world quality standards and only high-quality raw materials are used in production. At the plants a strict quality control test is carried out at each stage of production.
A wide range of products can satisfy even the most specific requirements of agricultural producers. Omex fertilizers are characterized by a high concentration of elements of mineral nutrition, which are soluble in water by 100%.
Omex fertilizers are specially designed for foliar top dressing of plants in the form of a water-soluble emulsion. Fertilizers are produced from high quality raw materials, which allows obtaining a stable fertilizer formula. Nutrients do not contain chlorine, the chelating agent is EDTA. Omex fertilizer contains a unique silicone adhesive with a reactivation function that allows you to adsorb even minimal moisture from the atmosphere to evenly feed the elements into the plant. Due to the unique formulation of Omex fertilizers, it is possible to use in the tank mix with practically all pesticides except those containing aluminum fosetil.
Formulation of fertilizers Omex is an emulsion.
This allows the use of fertilizers in the early periods of plant growth and development, when the ambient temperature does not allow the use of other fertilizers.
Formulations of fertilizers are selected taking into account the physiological needs of plants in different periods of growth and development.
Description of fertilizer Omex
Omega 3X (N 24%, P 24%, K 18%, Mg 15.0, Fe 1.63, Mn 0.8, Zn 0.8, Cu 0.8, B 0.33, Mo 0.012, Co 0.01 grams per liter) – balance of nitrogen, phosphorus, potassium and microelements; application for stimulation of active vegetative growth; It is effective at high and low temperatures.
Omega Sequenital-1 (N 10%, P 40%, K 20%, Mg 15, Fe 1.7, Mn 0.85, Zn 0.85, Cu 0.85, B 0.35, Mo 0.012, Co 0.012 grams per liter) – nitrogen, potassium, microelements and high content of phosphorus; apply in the initial period of plants (2-4 leaves) to stimulate the growth of the root system; with phosphorus deficiency at low temperatures; effective at low temperatures.
Omega Sequential-2 (N 10%, P 20%, K 40%, Mg 15, Fe 1.75, Mn 0.88, Zn 0.88, Cu 0.88, B 0.35, Mo 0.012, Co 0.011 grams per liter) – nitrogen, phosphorus, microelements and high content of potassium; apply during the ripening phase of the crop; at potassium starvation; is effective at high temperatures.
Omex Micromax (Mg 13, Fe 26, Mn 19.5, Zn 26, Cu 3.3, B 9.7, S 18.2, Mo 0.3 gram in 1 L) – high content of microelements; to stimulate plant growth and development; for the removal of micronutrient deficiencies in sudden temperature changes.
Omex foliar Boron (N 6.5%, B 150 g / l.) – 150 g / l of organic complex of boron; in the phase of flowering and budding; is effective at high temperatures.
Omex Calmax (N 15%, Ca 22.5%, Mg 30, Fe 0.75, Mn 1.5, Zn 0.3, Cu 0.6, B 0.75, Mo 0.015 grams per liter) is a balanced fertilizer for calcium and magnesium plus nitrogen and micro- elements; in the phase of growth and ripening of fruits; is effective at high temperatures.
In practice, when growing vegetable crops, the treatments are carried out in the form of tank mixtures, when several formulations of Omex plus plant protection products are used in the treatment
We give recommendations on the application of fertilizers to:
– Cereals and industrial crops;
– Vegetable crops;
– Gardens and vineyards;
– On berry crops.